The R.H. White Newsletter – Tribute to Leonard White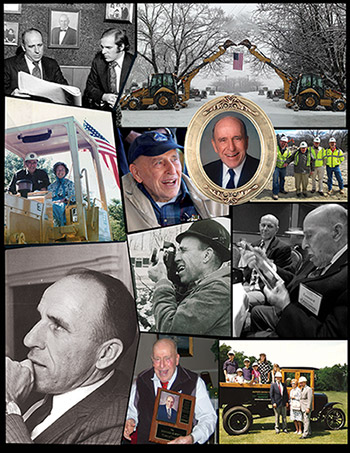 A Picture Is Worth A Thousand Words, which is very appropriate for this month's newsletter. There are so many memories from so many people whose lives he touched; there is just not enough space or time to do Leonard White the justice he deserves.
How quickly things change from one moment being business as usual, then in a flash, a life changing moment. For me it is another lesson learned, with some regrets that I could have done some things differently through the years while he was here. This life lesson is not unlike why we are so focused on safety.
That a life changing event to where you or someone else could be injured or worse, and it could have been prevented, leaving you with only regrets and, "I should have" thoughts.
Even though the past couple weeks have been difficult, it was also a tremendous tribute to my Dad, Leonard White, who was honored by all those who knew him. Some traveling across the country to pay their respects, or standing for over an hour at the wake.
The emails, cards, and letters that we received, many having their own stories of Leonard and the contributions he made, to not only his family and business associates, but also his church and community.
The biggest moment for me was during the eulogy at this funeral where the Bishop talked about Leonard being "all in" in everything he did. From his family, business family, friends, and community, he was "always all in". His commitment and drive was always to make things better for whatever the situation or purpose was. His dedication to people as individuals, he was always "all in" for them. For all of us he was "always all in" for the Company and his fellow employees. He continually brought his family values of safety, education and opportunity not only to the R. H. White Family, but to those the Company served through the highest quality service that we, he, could perform. Why…? Because he was "all in" – right to the very end.
He will truly be missed, but his legacy and values live on through all of us.
Respectfully,
David H. White, President / CEO

---
Obituary and article from WPI
1919-2014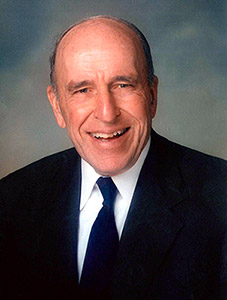 Leonard H. White, of Worcester, MA died peacefully at his home on January 14, 2014. He was the beloved husband of Anna Temple White for 65 years, who preceded him in March of 2007. He was born April 17, 1919 in New London, CT and the son of the late Ralph H. White and Ruth Maynard Spalding. Leonard grew up in Auburn, MA and graduated from Auburn High School in 1937. He graduated from WPI in 1941, before entering the Navy in March 1944 where he was a Lieutenant on an LCS (Landing Craft Support).
Married in 1942, Anna & Leonard first resided in Newark, NJ, where their first daughter, Susan was born in 1943. After Leonard's three years of Navy service, he and Anna returned to Worcester, MA, where they lived and raised three more children Janie, David and Wendy.
Leonard began his career as a gas engineer for Public Service Electric and Gas, New Jersey's largest utility shortly after receiving his mechanical engineering degree from Worcester Polytechnic Institute. He spent three years with Public Service and another three years as an engineering officer for the USN before returning and joining his father at R. H. White Construction Co. in 1946 as a project engineer.
Leonard's energy, drive and love for the construction business helped him build a high quality organization that services utilities and industries throughout New England. He grew the company from a small 50 person organization to a multi-million dollar corporation with over 500 employees, where Leonard was still employed until his death this week. Leonard served as its President from 1960 to 1989, Chairman of the Board until 2010, and then Chairman Emeritus until present.
Leonard was also involved with many local organizations, where he took leadership rolls, such as a Trustee for WPI 1977-1992, Auburn Rotary Club where he received several Paul Harris Fellowship awards, All Saints Church, and many others.
Leonard was a devoted family man to his wife and children with whom he loved to vacation and pursue family sports such as water skiing and snow skiing to mention a few.
His success as a business and community leader were the result of his strong family values, which remains as the foundation at R. H. White today.
Over the years, Leonard created two scholarships and a professorship at WPI: the Leonard and Anna White Scholarship Fund, the Ralph H. White Scholarship Fund, and the Ralph H. White Professorship in Civil Engineering. Also another was created in his honor, the Leonard H. White Scholarship Fund for R. H. White employees and their families through the Greater Worcester Community Foundation, creating opportunities for others who wanted to have a career in engineering, construction and business.
He has received numerous awards from his professional industry and the community too numerous to mention. He was a member of AWWA, AGC, MWWA, NAWC, NEWWA, Northeast Gas Association, National Association of Professional Engineers, NFIB, and the U. S. Chamber of Commerce. He was a member of All Saints Church and the Auburn Rotary Club.
Leonard leaves his 4 children: Daughter Susan Premo and her husband Walter Premo of Claremont, NH; Daughter Janie Larson and her husband Bruce Larson of New Milford, CT; Son David White and his wife Shirley White of North Grafton, MA; and Daughter Wendy Bowen and her husband Nicholas Bowen of Newtown, CT. He leaves 9 grandchildren: 5 Grandsons: Colin Premo and his wife Michelle Premo of Claremont, NH, Christopher Larson and his wife Linsey Larson of Needham, MA, David Larson and his wife Leah Larson of Hubbardston, MA, Thomas White of North Grafton, MA and Alex Bowen of Newtown, CT . 4 Granddaughters: Jessica White of Worcester, Heather Whitney and her husband Jared Whitney of Holden, Alana Giddens and her husband Daniel Giddens of North Grafton, and Elizabeth Bowen of Newtown, CT. He had 6 Great-grandchildren: Connor and Kyle Premo, Haley and Elin Larson, Walker Larson and Elizabeth Whitney. He also leaves his brother Judson Spalding of Durham NC and was preceded by sister Joy McGovern of Auburn, MA.
Relatives and friends are invited to attend calling hours on Friday, January 17th from 3:00 – 7:00 p.m. in the Britton-Wallace Funeral Home, 91 Central St., Auburn, MA. Leonard's funeral will be held on Saturday, January 18th at 10:00 a.m. at All Saints Church, 10 Irving St., Worcester, MA. Burial will follow in Hillside Cemetery, 65 Central Street, Auburn, MA.
In lieu of flowers, contributions can be made to the All Saints Church, 10 Irving Street, Worcester, MA 01609 or the Massachusetts Chapter of the American Parkinson's Disease Association, 72 East Concord Street, Room C3, Boston, MA 02118.
[a href="https://www.rhwhite.com/wp-content/uploads/2014/01/WPI_LeonardWhite.pdf" style="medium orange" title="WPI Release" target="_blank"]View WPI Article[/a]